By Ramon Silveira – Sales Engineer
Did you know that the Datacom DM4610 and DM4615 OLTs are based on the DmOS platform?
DmOS is the firmware platform that the Datacom client will find on next-generation switches as well as portfolio GPON OLTs.
DmOS is a Network Operating System developed by Datacom to address high availability, scalability, supportability and performance applications. It is designed within the latest concepts, which ensures portability features for different hardware architectures, as well as the ability to quickly absorb technological developments and new features.
For OLTs, DmOS implements several GPON technology features, such as:
Remote UN configuration through OMCI protocol according to ITU-T standards;
1: 1, N: 1 and TLS communication applications;
Automatic provisioning of UNs through predefined profiles;
Protocols such as PPPoE IA and DHCP Relay Agent Information option (option 82).
Switching L2
What few people know is that DmOS unifies advanced Ethernet / IP and GPON networking capabilities on its platform, making OLT a carrier class switch.
At layer 2 level, several protocols are available to optimize, secure and manipulate Ethernet frames. Protocols such as EAPS, ERPS (for ring protection) and the Spanning Tree Protocol (STP) family can be configured to keep the network protected from possible loops and link drops.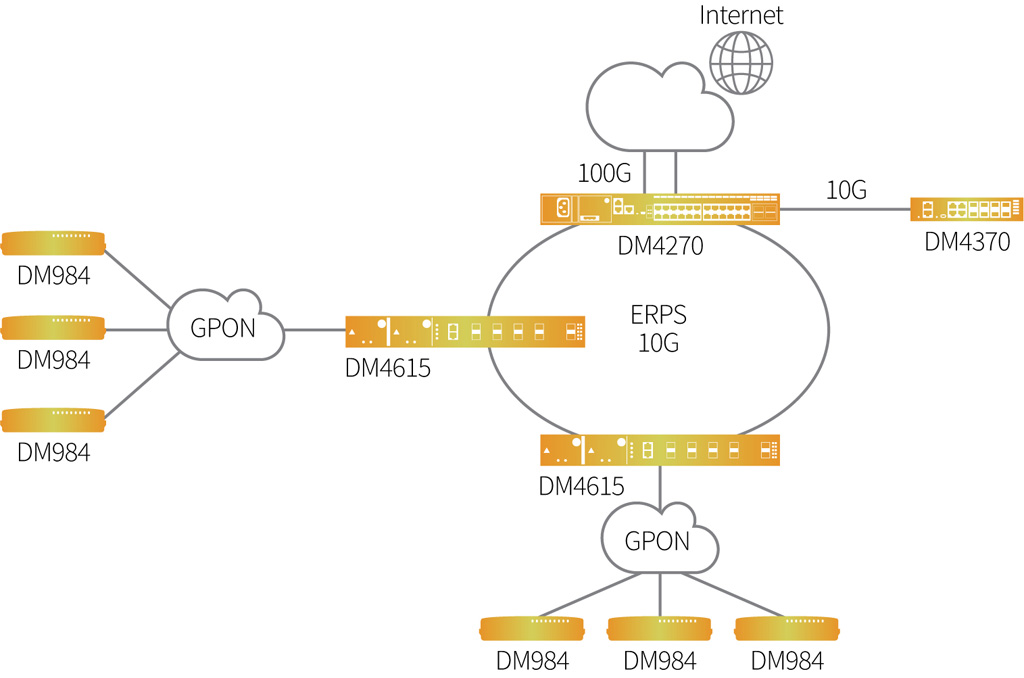 The Layer 2 Control Protocol (L2CP) tunneles network control protocols, enabling the development of LAN-to-LAN services transparently. Additional features like QinQ and VLAN-Translate allow you to handle L2 traffic.
You can also aggregate links across Port-channel (IEEE 802.3AD) statically or dynamically (LACP - Link Aggregation Control Protocol), enabling greater bandwidth through logical links.
IP / MPLS Differential
In terms of routing, besides the possibility of static and dynamic routing through OSPF v2 protocol, since DmOS version 4.8, MPLS is implemented in Datacom OLTs.
Carriers and internet providers can use the DM461x OLTs as a transport switch that supports the creation of L2 peer-to-peer and point-to-multipoint VPNs.
There are two predominant technologies for L2VPN constitution, in peer-to-peer mode, the Virtual Private Wire Service (VPWS) is used and for the Virtual Private Lan Service (VPLS) multipoint-to-multipoint mode, which are defined by the RFC 4664.
VPWS is based on Layer 2 point-to-point service emulation in Pseudowire Edge-to-Edge PWE3 architecture, providing minimal wire-to-edge functionality that interconnects two remote points. Customer Edge (CE) traffic that enters the Provider Edge (PE) is encapsulated in a PWE3 and transported to the destination PE, where it is unencapsulated and delivered to the remote CE.
VPWS can operate in two ways; the first is based on information contained in OLT's Ethernet or service-port interfaces, whether or not IEEE 802.1q tags are sent and frames are transmitted transparently. In this option, each Ethernet port allows identification of only one client.
The second form is based on the IEEE 802.1q tag, where the frame forwarding criterion is based on the VLAN ID, which allows on the same Ethernet interface the presence of more than one client sharing the port. Because it behaves like a peer-to-peer connection, MAC address learning is not required to send frames within VPWS.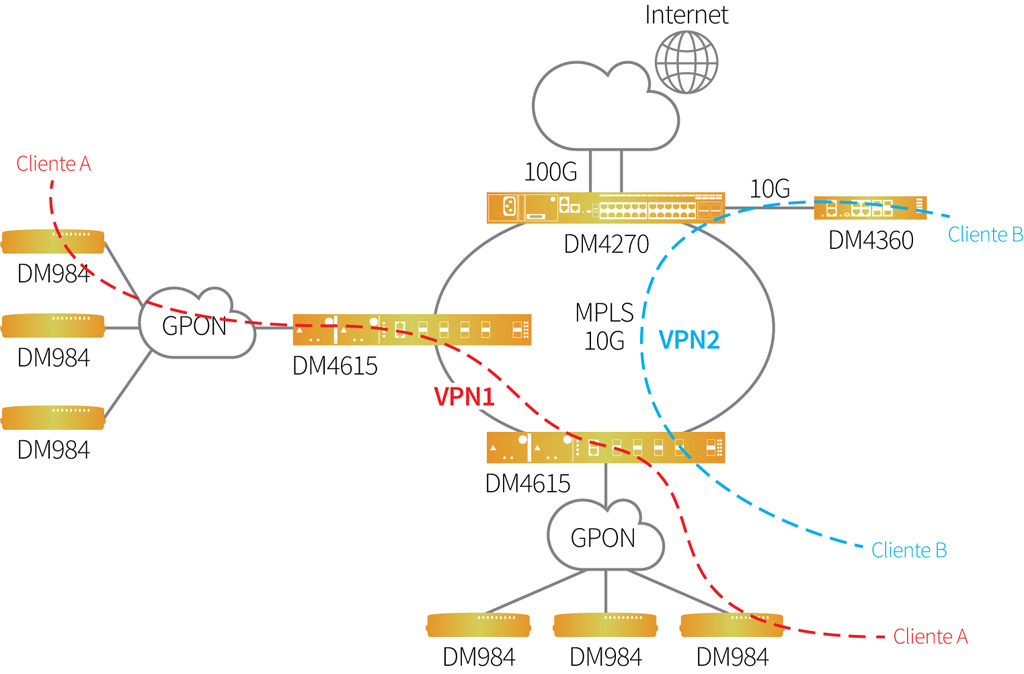 VPLS, on the other hand, has the Layer 2 service transport profile, relevant to Metro / Carrier Ethernet network-based access applications in multipoint-to-multipoint mode. It behaves by emulating the characteristics of an Ethernet LAN switch. VPLS currently requires a loop between two or more OLT ethernet ports, however features are being developed that will allow the use of VPLS without this loop (will require only OLT firmware upgrade).
Point-to-multipoint VPNs are quite common in topologies aimed at serving customers with a central site and multiple branch offices. Another important application is to carry all GPON user traffic to BRAS (PPPoE Concentrator) using a VPN, without the need to extend VLANs to BRAS.
In possible VPLS topologies, it is necessary to use the MAC address for routing purposes, thus allowing to identify the correct destination for sending frames.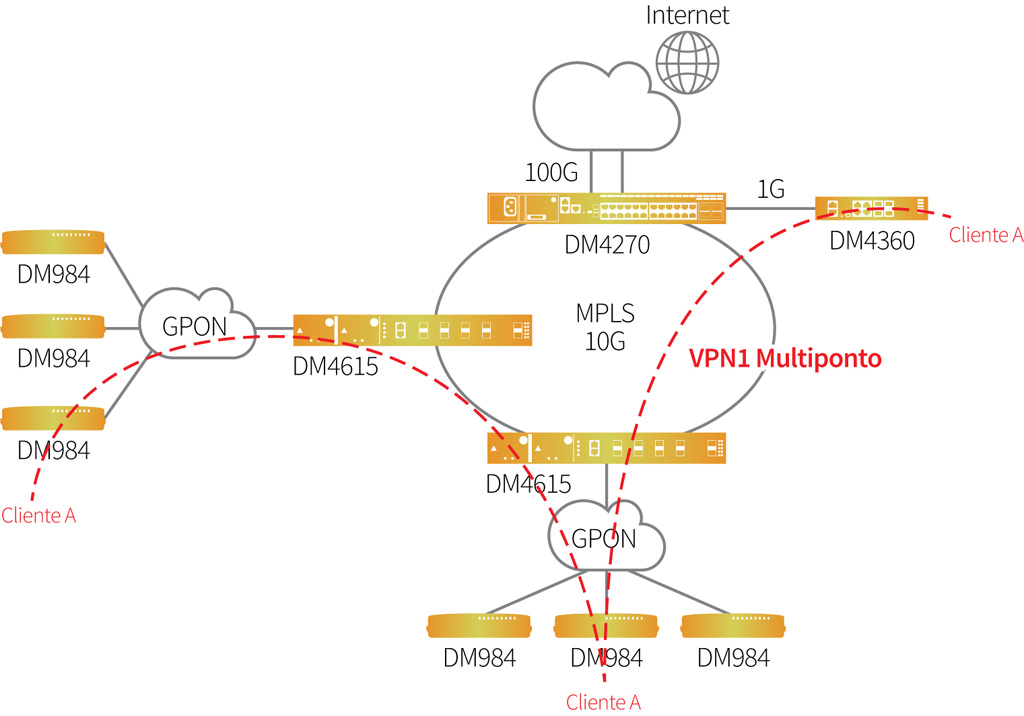 DmOS is an ever-evolving software platform that enables Datacom OLT customers to benefit from this evolution to the limit of hardware capacity. OSPF v2 and MPLS L2VPN routing solutions are an example of this.
Remembering always that Datacom has a complete structure in its headquarters where are offered face-to-face training. Training will enable you to manipulate equipment, configure various topologies and application scenarios in a complete lab environment, and can count on the help of our professionals in a series of good practices that will greatly assist in operating your network.
Subscribe to our Youtube channel, mark receiving notifications and also share the link on your social networks. For questions and request for proposal, do not hesitate to contact the Datacom sales team: sales@datacom.com.br or (+55) 51 3933 3000.
If you have questions about these applications, please feel free to contact our suporte.prevendas@datacom.com.br team. We are available to assist you in choosing the product that best suits your needs.