The DM4050 switches have six 10GE SFP+ interfaces that can be used for both access links larger than 1GE as well as an uplink interface for 10GE or greater than 10GE aggregation rings through the use of Link Aggregation and LACP, making the product very versatile and capable of serving diverse applications of high capacity and high availability.
Metro Ethernet Aggregation
Through its GE/10GE optical interfaces and its L2 and L3 features, DM4050 switches serve high-capacity Metro Ethernet traffic aggregation applications, providing a reliable, high availability solution for corporate or residential services. They are supported by the product ring, star or linear topologies, allowing the network design that best suits the needs of the solution.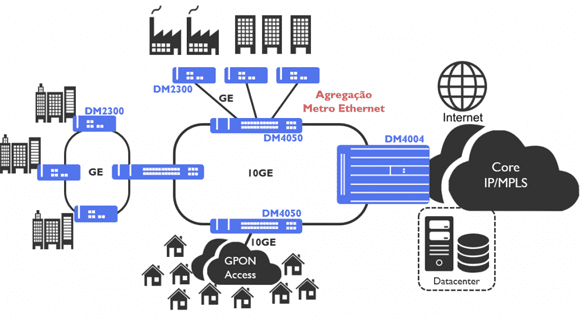 IP access
The DM4050 switches support routing functionality as well as packet forwarding done in HW, ensuring wirespeed operation across all its interfaces for any packet size. Through OSPF and BGP protocols, the ability to create L3 filters and QoS functionality, the switch can also be used as an IP access solution for high value-added enterprise services, ensuring redundancy through features such as LACP, STP or EAPS, depending on the network topology used.